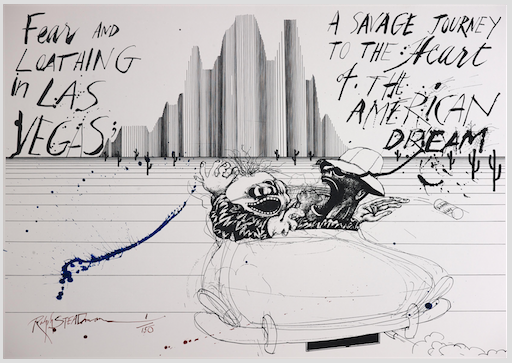 From Hunter Thompson's cult classic, Fear and Loathing in Las Vegas, one of the most iconic images in the novel is Savage Journey. Ralph has collaborated with Brian Chambers to create this extraordinary, limited edition, screen print. The edition of 150 have all been signed and numbered in red ink and embellished with his trademark flourish, the splat, in Ultramarine Blue. Each is a unique piece in its own right. They were produced by Kentucky based, Master Printer, Joe Petro III who has collaborated for decades with Ralph on his screen prints including the Hunter Memorial print, Vintage Dr Gonzo, The Sherriff and Leaving Kinshasa.
Printed on Coventry Rag.
30 inches high x 43 inches wide
77cm high x 109cm wide
Each print will be sent out fully tracked and will require a signature upon delivery.