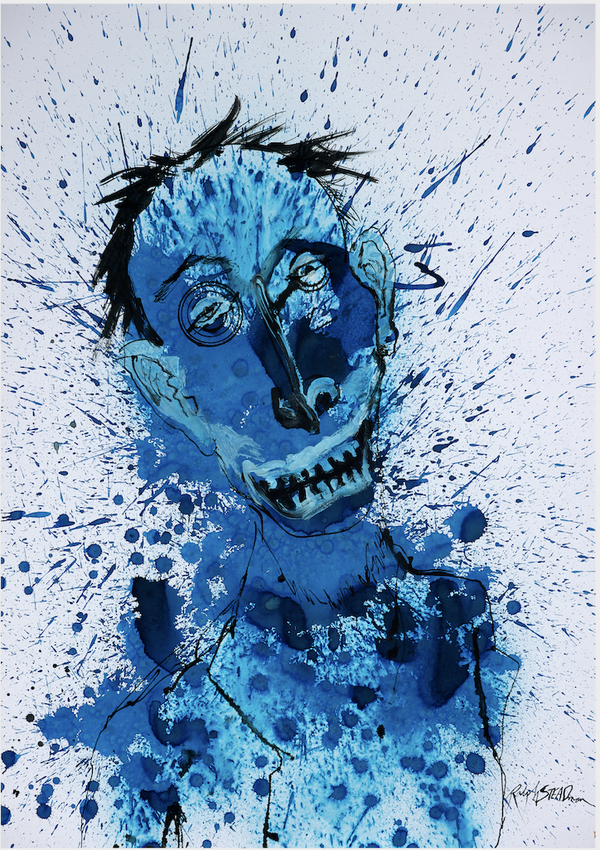 In 2019, before the world tumbled into a pandemic, Ralph was asked by good friend Stephen Deuters if he might be willing to contribute some artwork to a film about Pogues front man, Shane MacGowan, called Crock of Gold, directed by Julien Temple. His artwork would be used to animate a memory of Shane's within the film. While on tour in New Zealand, and under the influence of some particularly potent local herbs, Shane had a vision. He was visited by Maori spirits who wanted him to paint his entire hotel room and everything in it, blue and not being one to shy away from a challenge, that is exactly what he did. Shane was discovered the next morning by his perturbed manager, painted blue from head to foot!
The image is one of the portraits of Shane that Ralph drew for the film and we are pleased to be able to offer a run of signed prints to raise money for the Great Ormond Street Hospital Children's Charity, London. All profits will be donated to the hospital to help them continue their work supporting seriously ill children and their families. The charity was suggested by the film's producers, Stephen Deuters and Johnny Depp.
Each print is A4 in size and will be signed by Ralph Steadman.