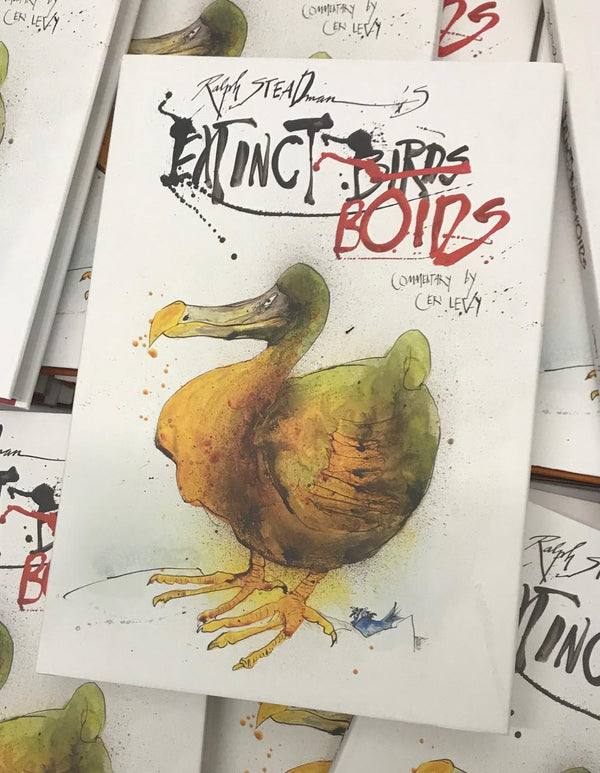 ONLY AVAILABLE, SIGNED, HERE!
The first book from the Gonzovation Trilogy. In 2011, Ceri Levy approached Ralph through a mutual friend via email asking for a drawing of an extinct bird for an exhibition he was planning, called "Ghosts of Gone Birds". Advised not to pester the Gonzo artist, Ceri Levy waited patiently for several weeks until the first of what would grow into a collection of over 100 powerful illustrations of birds, which have long been lost to the world, arrived in his Inbox. 
As the collection grew, so did the friendship and this book is as much an exploration of how the plundering of the planet has gradually decimated the numbers of so many wondrous creatures, as it is the charting of a friendship and collaboration. Levy's diary-like words accompany Ralph's drawings and together they chart the murky realm of the extinct birds and imaginary Boids. 
Signed by Ralph Steadman and Ceri Levy, copies of the first edition are exclusively available directly from the Steadman Shop website. There are only a limited number available so please get your orders in as once they are gone, they are gone (like the boids).
International postage costs reflect the weight of the item.
Find out more about Gonzovation at https://gonzovation.com/
To purchase the entire set please click below.