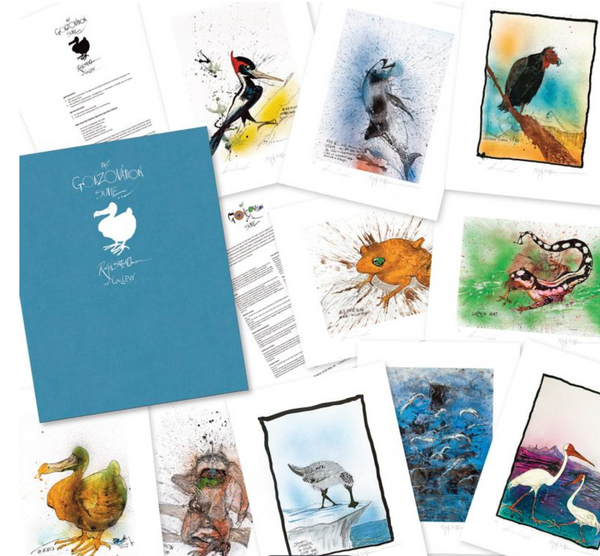 Gonzovation duo, Ralph Steadman and Ceri Levy, have teamed up with the Goldmark Gallery, Uppingham, to produce a limited edition set of 10 prints focusing on extinct and endangered animals. Each stunning print in the 50 strong edition (25 reserved for the US and 25 for Europe) features one of Steadman's captivating animals or boids, accompanied by Levy's subtly imprinted words which encapsulate the species' plights and will raise funds for species protector, WildAid.

Presented in a specially crafted, hand-made box, the creation of The Gonzovation Suite is part of a campaign, which includes Vans Footwear and Flying Dog Brewery.

As Steadman and Levy comment, "All gonzovation projects pay an amount of money to our chosen charity, WildAid. We love the work that they do as they are continually fighting against the illegal wildlife trade, which is worth billions of dollars to those reaping the rewards. We salute their work and as Gonzovationists we stand with them."

The Gonzovation Suites will be available to buyers in Europe and the USA. "Sometimes it takes creativity and humour to change the world," says Peter Knights CEO of WildAid. "We hope these vivid depictions of the world's most imperiled species can help inspire the change we need to save them".

Mike Goldmark, founder of Goldmark Gallery, concludes; "We always enjoy working with Ralph Steadman and Ceri Levy and have been selling their magnificent Critical Critters portfolio over the last couple of years. The Gonzovation Suite takes Gonzovation to a new level and we at Goldmark believe that art can make a telling contribution to the ongoing battle against the destruction of species."
Also available HERE!
Learn about it's creation HERE!