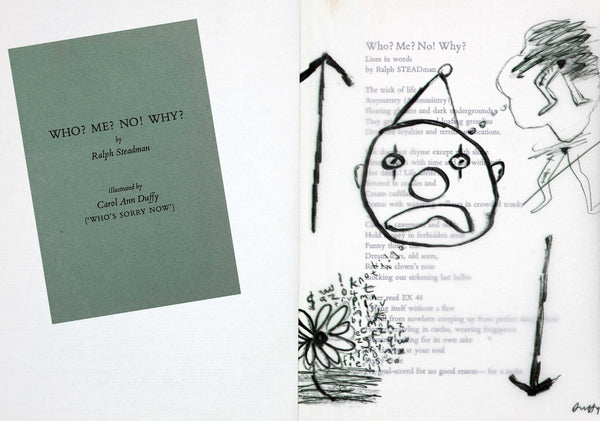 Another gem from the Turret Books days. Unusually, in this case, Ralph did not illustrate, but wrote a poem and Carol Ann Duffy (for more information on Carol Ann Duffy please visit https://www.poetryfoundation.org/poets/carol-ann-duffy) provided the illustration.
Some may be surprised that Steadman has turned his hand to poetry but considering the books and plays he has written, songs he has written and performed and the many other elements of creativity he has delved into, of course he would have had a dalliance with poetry.
These will likely be most appreciated by collectors. They measure 160mm w x 220mm h and are essentially a small pamphlet with a cover and 3 pages. The second page which holds Carol Ann Duffy's illustration is translucent so the poem can be read through the drawing.
These have been in the archive for some time so please allow for some wear and tear although they are generally in good condition. Ralph will sign each upon order.